By Charles Nwabardi
The Anambra State Command of Nigeria Security and Civil Defence Corps (NSCDC)on Tuesday received in audience the Acting Deputy Commandant General in charge of Operations of the Corps Haruna Lawal Muhammed at the State Command Headquarters Awka.
Lawal, who is on Special assignment in the State with respect to the upcoming gubernatorial election in the state is expected to meet with relevant stakeholders and the government with regards to security arrangements for the election.
The Ag. DCG was received  on arrival by  Vincent Ogu, the Anambra State Commandant as well as other Senior Officers of the Command.
In his address, the State Commandant promised to assist him to accomplish his aim of visiting the state. He further assured the Ag. DCG (Ops) that the Command under his watch will continue to sustain the robust Operational strategies and visibility Patrol embarked upon as the gubernatorial election  draws near.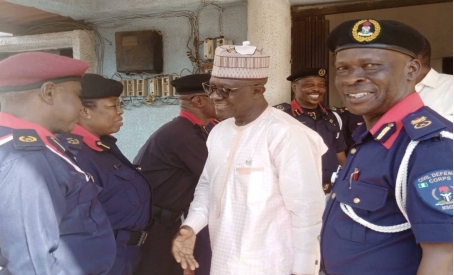 Responding, the Operations boss explained that the visit was in line with the efforts of the Commandant General of NSCDC, Ahmed Audi, aimed at reviewing the Operational strategies of the Command. He said he was in Anambra on the orders of the Commandant General to familiarize himself with what the Command was doing towards the forth coming gubernatorial election, meet with relevant stakeholders and seek for continued support of the State Government towards the Corps.
Mr. Lawal Muhammed solicited  the continuous support of Officers and Men in ensuring sustenance of strategic, proactive security tempo achieved so far by the newly deployed State Commandant.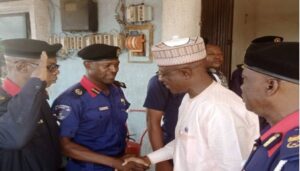 He challenged Officers and Men to put in their best since according to him the Commandant General has within the little period of his administration shown  commitment in uplifting the welfare packages of NSCDC personnel throughout the federation.
The Ag. DCG commended the peaceful nature of the State and urged the Command to remain steadfast in ensuring that peace prevails in the State in preparation for the forth coming gubernatorial election come November 18th.