By Frank Oshanugor
The Lagos State Commandant of the Nigeria Security and Civil Defence Corps (NSCDC) Eweka Douglas Okoro on Thursday paid tribute to the Nigerian Army for what he described as "the wonderful roles played in training and capacity building at the formative stage of the Corp."
Commandant Eweka gave the appreciation during his official visit to the Commander, 9Brigade, Nigerian Army in his office in Ikeja, Lagos. The visit was a bid to further strengthen the  synergy between the Corps and sister security agencies in the state.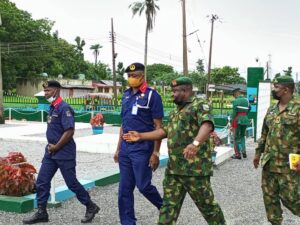 He also seized the opportunity to express his willingness and readiness to work with the Army and other services and formations in order to combat any form of insecurity in the state. The Commandant also emphatically stated that the  Lagos State Command of NSCDC was ready to fully ensure the protection of oil pipelines and other critical national assets and infrastructure in the state. 
The Commander  9Brigade, Nigerian Army, Brigadier General Mayirenso Saraso, while receiving the team, said he considered the visit of the Commandant and his officers, as an opportunity to further strengthen inter-agency collaboration in the state. He stated that the familiarisation visits that have since been embarked upon by the Commandant upon his resumption in Lagos, were good for the enhancement of the security apparatus and architecture of the state.
Brigadier General Saraso craved for more cordial relationship amongst the security agencies in the state. Moving forward, the Army Commander promised to ensure a good working relationship with the Nigera Security and Civil Defence Corps, Lagos State Command as the Corps remains one of the critical stakeholders in the security industry. 
He affirmed that in the security business, no security organization knows it all. "Therefore, the need for all Security Services and Agencies to learn from each others' area of competence is germaine, vehement, significant and apt," he noted.
Quite appreciative of the warm reception, Commandant Eweka vowed that he would continue to maintain a highly robust and genuine level of collaboration with all sister agencies, with a focus and view to ensure absolute safety, security and protection of lives and property in the state.
He promised that with collective approach to security, insecurity will be a thing of the past in the state sooner than later.
In another development, the Commandant, had on Wednesday  received the Program Manager Yiaga Africa, Mr Paul James and other members of his team, at noon day, at the Lagos State Command Headquarters, in Alausa, Ikeja, Lagos.
Yiaga Africa is a non-governmental organization that promotes Democratic governance, Accountability, Human Rights and Civic participation. As one of the leading organizations  that observe and work on elections in Nigeria, since 2007, the Program Manager stated that they would want to carry out a feasibility study to assess the level of preparations of the Command towards the upcoming Local Government Election in Lagos State. 
The Program Manager also commended the Corps for being a capable and dependable critical stakeholder in election and electioneering process, at all levels in the nation.
Commandant Eweka Douglas Okoro, in his response commended Yiaga Africa for their consistent service to humanity and the nation at large. He assured the team of adequate provision of security before, during and after the Local Government election, which has been scheduled to hold on the 24th July, 2021 in the state. He also stated that the Command will do all its best, within the ambits of the law, to protect not only the electorates but all stakeholders that would be involved in the election process as strategic measures have been put in place to ensure a peaceful, credible and transparent Local Government election in the state