By Braxton Ilobah
The Commander, Naval Air Base, Ojo Lagos; Commodore Mutairu Mustapha Braimah has pledged to provide aerial surveillance services to the Lagos State Command of the Nigerian Security and Civil Defence Corp (NSCDC) in furtherance of the much advocated inter-agency synergy amongst Nigeria's security forces. 
He made the promise during a courtesy visit to the Commandant of the Lagos State Command of NSCDC; P.K. Ayeni in his office at Alausa, Ikeja Lagos on Thursday.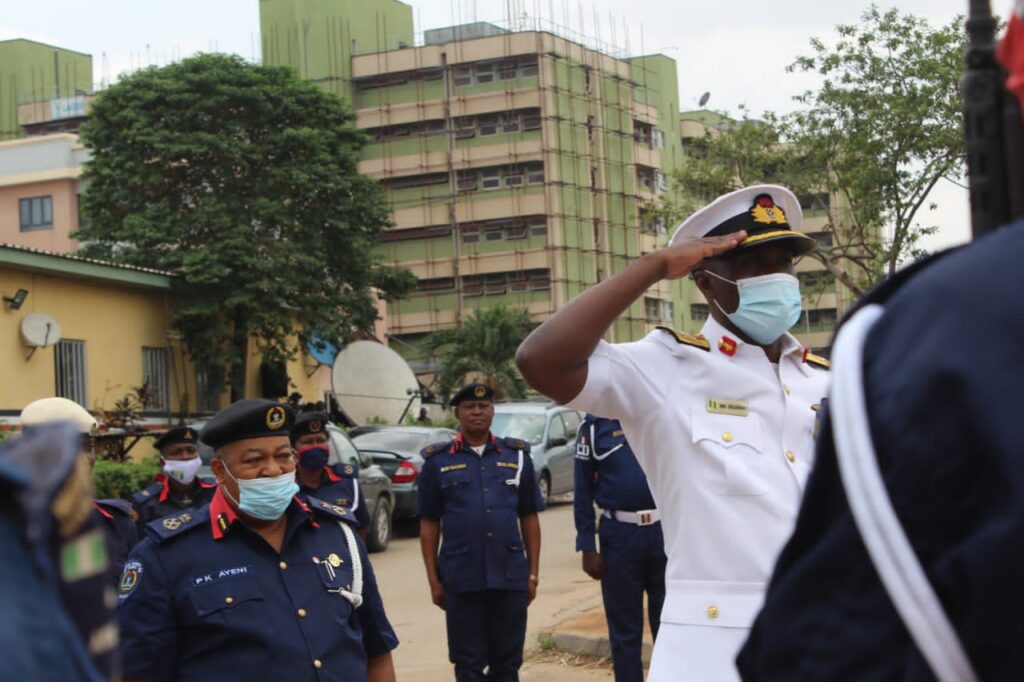 The Commander commended the Commandant, for hardwork and harped on synergy and inter-agency collaboration.
The Naval chieftain obviously enthused by what he observed to be a product of hardwork in ensuring the security and safety of lives and property in Lagos commended the Commandant.
The Commander specifically emphasised, the need for collaboration and synergy between and amongst the security organisations, in the state, so that  they can collectively nip criminal activities and insecurity challenges in the bud, before they escalate or degenerate, into an uncontrollable situation.
He promised to support and assist the Command in fulfilling its statutory functions and mandates, through aerial survey and coverage of critical and significant points, such as pipelines and others, within the Corps' mandate, in Lagos State.
 He added that this will aid and speed up Intelligence and information gathering mechanism, of the Command.
Commandant Ayeni in his response, expressed his unspeakable joy and fulfillment, over the comments and promises, of the Commander. He explained that he has being maintaining zero tolerance, against oil pipeline vandalism, in the state and the support of the Commander, Naval Air Base Ojo will go a long way, to assisting the Command, to fulfilling the statutory functions of the corps, as it relates, to oil pipeline vandalism, in the state. 
Further more, Commandant Ayeni primed the Commander, about the effectiveness and efficiency, of the Anti-vandal and Armed Squad units, of the command, towards curbing and eradicating oil pipeline vandalism, in the state. He opined that such synergy and collaboration with the Air Base of the Navy will generate much more relief and results,  to the Command and in all it will be beneficial to Lagos state, as peace and security will be guaranteed 24/7, even in the state.