By Frank Oshanugor
Consequent upon the re-opening of Nigeria's land Borders earlier this year on the orders of the Federal Government, officers and men of the Nigerian Customs Service (NCS) Seme Border Command have made seizures of various items smuggled into the country recently with a total duty paid value of N409,851,533.14.
This was disclosed in a press conference on Wednesday by the Seme Customs Area Command  Comptroller Bello Mohammed Jibo at Ecowas Joint Border Post Hall, Seme-Krate, Badagry.
Giving a break down of the items, Jibo said a total of 79 assorted vehicles, 5,568 bags of foreign parboiled rice (50 kg each),  294 cartons of frozen poultry products, 232 parcels of cannabis sativa, 798 cartons of tomato paste, 3,208 jerry cans of Premium Motor Spirit (25 litres) and three cartons of sugar were among items intercepted.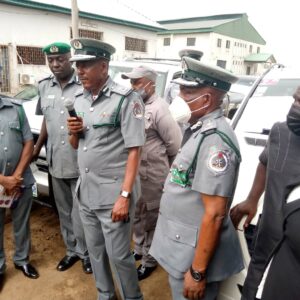 Other items included six cartons of slippers, 305 pairs of used shoes, 30 cartons of Nescafe, 19 cartons of Non Alcoholic wine, 10 cartons of cigarettes, 12 cartons of herbal soap and two sacks of condoms.
While praising the gallantry of his officers and men, the Comptroller remarked that the achievements of the Seme Customs Command were aided by the synergy and active collaboration between Customs and sister agencies particularly in the effort to combat the dare-devil smugglers.
According to Jibo, "the landmark achievement is an indication that officers and men of the Command are not losing their guards in detecting and stemming the tide of the nefarious activities perpetuated by dare-devil smugglers."
He explained that "in the wake of Federal Government pronouncement on the re-opening of land borders, the Command harnessed all revenue components in line with the new operational guidelines with a view to project revenue base of the Command and facilitation of legitimate trade."
He disclosed that the Seme Customs Command recorded trade volume of three hundred and forty eight million, eight hundred and twenty seven thousand, seven hundred and seventy five (348,827,775) metric tons of exported goods with Free On Board (FOB) value of N4,277,047,153.92 (Four Billion, Two Hundred and Seventy Seven Million, Forty Seven Thousand, One Hundred and Fifty Naira, Ninety Two Kobo) while the NESS value stood at N21,384,443.67.
He added that the overall revenue remitted into the Federation account within the first quarter is N80,774,000 (Eighty million, Seven Hundred and Seventy Four naira).
The Comptroller who had earlier  conducted journalists round the Customs seizure yard disclosed that no suspected smuggler was arrested in connection with any of the intercepted 79 vehicles smuggled through the land borders.
He warned that importation of vehicles through the land borders remains prohibited as such import is only authorised through the ports in line with extant Customs regulations.
Many of the vehicles were brought in through illegal routes and parked within the Badagry community with the hope of taking them to various places through the use of forged import documents many of which were recovered in the vehicles