By Frank Oshanugor
Retired soldier, Usman Baba Pategi (a.k.a. Samanja) who ventured into drama in 1985 after leaving  military service has received a gift of N2million from the Chief of Army Staff (COAS) General Faruk Yahaya.
The money which was sent through a delegation on Monday is to assist him in taking care of his ailing health as he is reportedly battling with liver problem.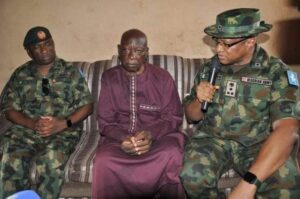 An army veteran source told SECURITY REPORTERS.com that 79 year-old Samanja who was the toast of television theatre fans in the '80s/90s across Nigeria has been sick due to old age.  He once received treatment in India before returning to Nigeria.
His condition was worsened by the death of his wife who had been attending to him.  Since then, he was said to have lived in abject poverty until Kwara State Governor, Abdulrazak Abdulrahman came to his aid with a gift of N500,000. Samanja hails from Pategi in Kwara State.
It was learnt that his health status was also brought to the notice of his military colleagues and subsequently to the current COAS, General Yahaya who graciously assisted him with N2million through a delegation on Monday.
The soldier turned dramatist whose death rumour went viral few days ago, has debunked the news as false saying he is alive and would wish to live more years in good health.