Kenny EMMAN
Nearly two days after being stabbed at least 10 times in the face, neck, and abdomen, author Salman Rushdie, is now "on the road to recovery."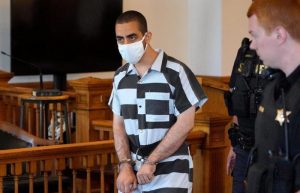 Andrew Wylie, his agent, confirmed on Sunday.
Wylie said the author's injuries are "severe" but he is "on the road to recovery."
"He's off the ventilator, so the road to recovery has begun.
"It will be long; the injuries are severe, but his condition is headed in the right direction," Wylie noted.
Recall that Mr Rushdie, 75, was attacked while speaking at an event in New York state.
He has faced years of death threats for his novel The Satanic Verses, which some Muslims see as blasphemous.
Following the attack, his agent Andrew Wylie said the novelist had suffered severed nerves in one arm, damage to his liver, and would likely lose an eye.
The 24-year-old Hadi Matar, charged over Friday's attack pleaded not guilty to attempted murder and has been remanded in custody without bail.
Matar is accused of running onto the stage and stabbing Mr. Rushdie.