Charles NWARBADI
The Ogun State Security Network  Agency,  Amotekun Corps,  has again showcased another series of successes it recorded  in the last two weeks in its  determination to rid  the state of undesirable elements who are bent on testing the Command's  resolve to fight all forms of crime and criminalities particularly cultism and other related vices.
The great harvest of suspected criminal elements was contained in a Press Release by the State Commander, CP David Bola Akinremi, psc(+) (rtd.) on Tuesday August 16, 2022.
Akinremi lamented that major towns in the state witnessed all forms of cult related killings, gangsterism and disturbance of public peace.
"These criminal elements perpetrating the dastardly acts in the name of supremacy war have caused so much apprehension to the peace loving residents of the State with Abeokuta metropolis, Sagamu, Ijebu-Ode, Ijebu-Igbo being the most affected.
"However, the Amotekun Corps in taking the war to their door steps with a view to checkmating activities of these criminal elements, has in the last two (2) weeks, arrested eleven (11) notorious cultists of both Aiye and Eiye Cult groups in some parts of the State," the statement said.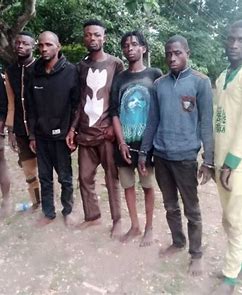 The Commander said that members of the cult groups were involved in cult clashes leading to the death of a number of persons in Sagamu, Ijebu-Ode and Ijebu-Igbo respectively. The groups were also involved in robbery and dealt in illicit drugs (tramadol, S.K, Load, Ice, e.t.c) including weeds suspected to be Indian hemp.
On the 4th of August, 2022, one Osikoya Noah 'M'; 14 years, of GRA Sabo, Sagamu was attacked at Ajegunle Junction, Sabo Sagamu by four suspects on his way from church service.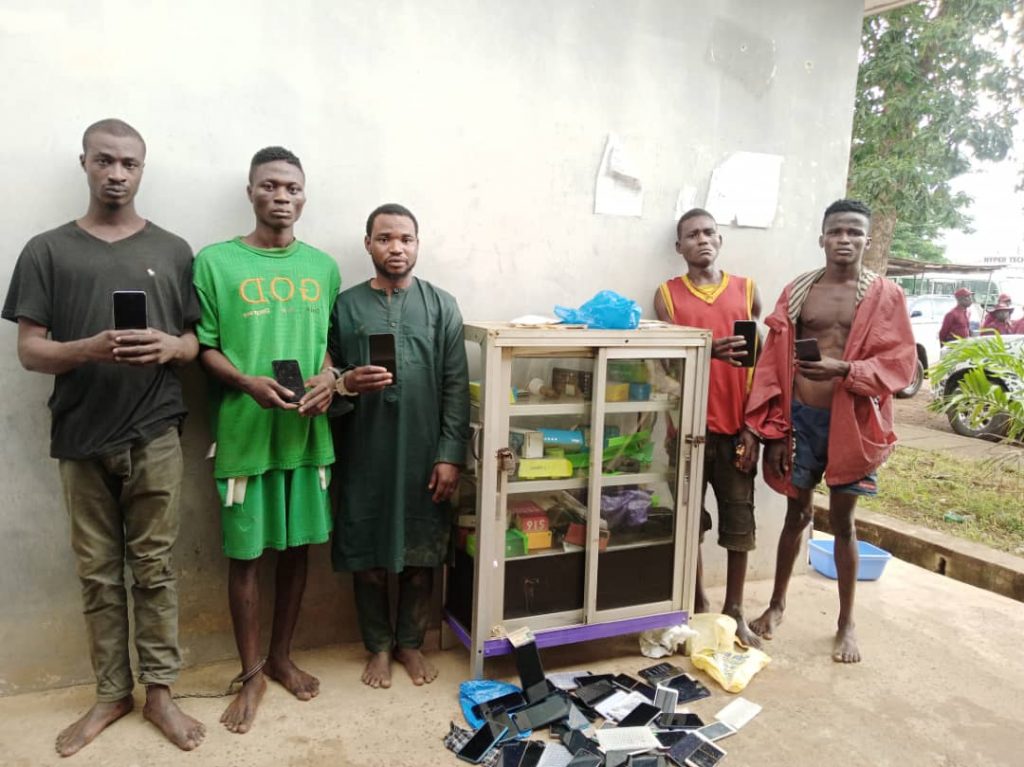 "The suspects told the victim that they were Aiye secret cult members and threatened to kill him if he fails to surrender his Samsung S10 Android phone to them. With this death threat, the victim surrendered his Samsung S10 Android phone valued one hundred and forty thousand naira only (#140,000) and an electronic power bank valued twenty thousand naira (#20,000) to them".
In the words of Akinremi: "When our operatives got wind of this they swung into action which led to the arrest of the four (4) suspects who in their statements confessed the commission of the crime including their membership of Eiye cult group operating in Sagamu as well as their involvement in killing of rival cult members in recent times.
"They also admitted selling the telephone handset and power bank to one Umar Abdulahi 'M', a second hand phone dealer in Ogere for twenty thousand naira (N20,000.00)."
The Commander revealed that Umar Abdulahi, the criminal receiver, was subsequently arrested after painstaking surveillance and admitted receiving the stolen items from one of the suspects mandated to dispose it.
Items recovered from  Abdulahi include: Ten Techno Android Phones, Two Small Techno Phones, Eight Infinix Android Phones, Seven Samsung Android Phones, Three Vivo Android Phones,Two Nokia Android Phone, Three Gionee Android Phone, Two Honor Android Phone, One iPhone and Two Hawaii Android Phone.
Others are One Itel Android Phone, One China Android Phone, One Phicomm Android Phone and One Opor Android Phone.
Other items recovered according to the Release  included,  forty-four (44) different kinds of second hand phones, thirty nine pouches, five phone cases, nineteen cartons, seven phone batteries, one Infinix charger, seven phone plates, three new airtel sim cards and ten used sim cards.
Meanwhile, on the  6th of August, 2022 at about1445 hours, Operatives of the Corps, in Ijebu North East Local Government arrested Ebiruga Oluwaseun, Alimi Raimi and Ola aka Ebony, members of a drug syndicate dealing in sale of weeds suspected to be Indian Hemp and other illicit drugs with UTC Axe, Cutlasses and some criminal charms recovered from them.
"It is worthy of note to state that all the above named suspects were arrested at different locations in the town and upon interrogation they all admitted being members of Eiye and Aye Cult groups who had been involved in the several killings of rival cult members in Ijebu Ode, Sagamu and Ijebu-Igbo. They also admitted membership of the drug ring in the area," Akinremi pointed out.
In another development, on 8th August, 2022, the three other suspects were arrested at Folagbade street, Ijebu Ode, by Amotekun operatives in Ijebu Ode Command while breaking into a phone shop.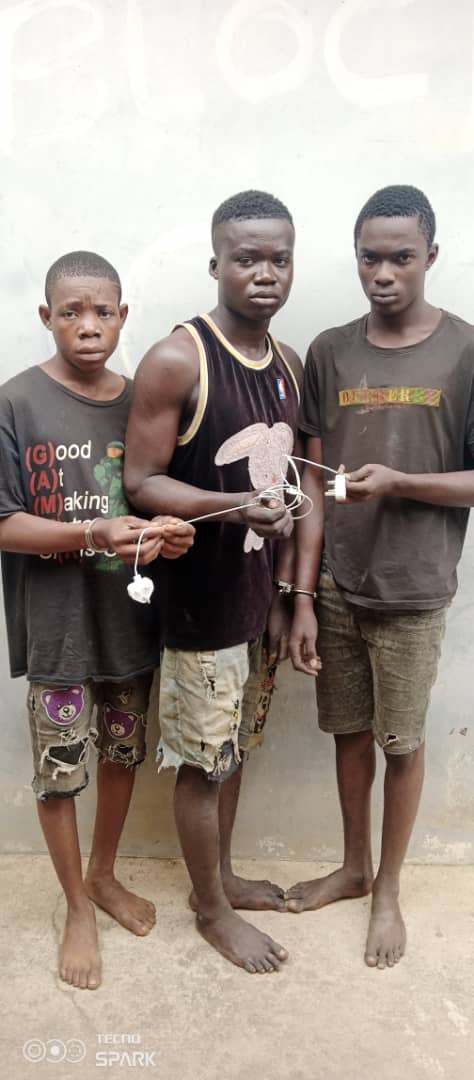 "On interrogation, the suspects, Onyeneho Chukwuemeka and Ibeh Dominion, claimed that they left Owerri, Imo State in for Lagos in search of job. On arrival at Ijebu Ode, they broke into a phone shop through the ceiling but unfortunately, there was no phone in the shop.
In the course of searching for another phone shop to rob, they met the third suspect, Adaya Stephen, a native of Warri in Delta state who accommodated them. They were caught while breaking into another phone shop along Folagbade Street, Ijebu-Ode.
In line with the rule of law, all suspects and exhibits have been handed over to the State Police Headquarters for further investigation and prosecution.
The Commander reiterated the resolve and readiness of his Command to wage continuous war against all criminal elements in the State by saying, "The war against criminal Elements in the State will be sustained with vigor as the threat by these enemies of our dear State and their sponsors will not deter us from carrying out mandate of ensuring a peaceful Ogun State."
Akinremi appealed to the good people of Ogun State to continue to partner with the Corps to jointly win the war against all forms of crime and criminalities.